Disruptive ease, incredibly powerful
It's a revolution for digital piano players. Hi-end features, sounds and effects, designed and organized in an amazing intuitive and effective way to offer the best feeling in performance, under every aspect and in every context.

With an incredibly powerful brand-new sound engine, four parts easily assignable to internal sounds or to external midi, four track built-in digital mixer, USB audio interface and the best touch ever, it's the ultimate keyboard for the ultimate user.
a disruptive user experience.
Less is more.
Enough physical elements to have great control. With a surprisingly effective and streamlined user interface, you won't have to give up any function.
Follow the colors. You can't go wrong!
The ease to access all functions thanks to the razor-sharp TFT color display and the color-adaptive encoders is disruptive. A completely new and intuitive user experience you won't want to stop having.
Zoom. Edit. Play.
Zoom mode keeps you focused on the zone's values. The color-adaptive encoders will follow your selection. You will have all the sound's parameters and its effects at your fingertips.





Unity is strength.
And sounds better.
Our best sound engine ever, reproduces mind-blowing sounds thanks to a mix of sampling, wave shaping and physical modeling.
More than 200 Sounds, including Acoustic Pianos, Electric Pianos, Keyboards, Bass and Guitars, Organs, Synthesizers, Orchestral and many others.
200+ sounds
Grouped in 8 banks
4 Zones
Assignable to Sounds or MIDI
8 Insert FX
FX1 + FX2 for each Sound
Master effects
Master delay, Master reverb
The "Acoustic modeling" makes acoustic piano sounds even more real. By reproducing string resonances, duplex scale, release note, key off and damper noise you will have the feeling of the real thing.
The "Electric modeling" implements a detailed physical model of a vintage electric piano. You won't want a better sound than the real one.
A dedicated and powerful FX engine with high-end effects quality, modeled from real hardware. You will be able to create all the atmospheres with epic sound effects. Listen to the sounds
Not enough Sounds?
Here comes Numa Manager
Transfer new sounds and choose their positions thanks to the new Numa Manager desktop app, that also allows you to update the firmware and organize the Programs in a fast and easy way.
Get Numa Manager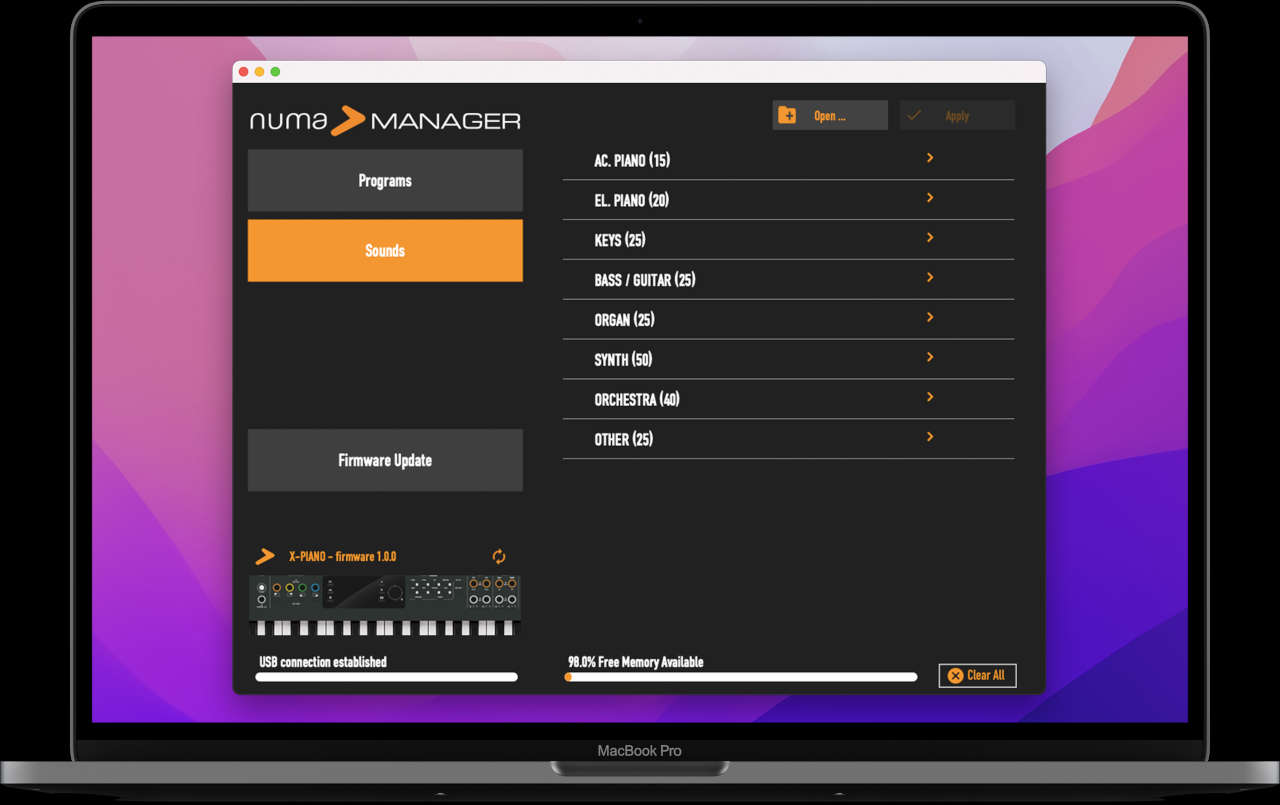 It will feel real when you play it.
The brand-new TP/110 is a massive improvement of the TP/100 design. The TP/110 gives a sturdy keys control with an impressive bounce reduction. The new hammers ensure an extremely fluent and authentic feel. The Aftertouch is triggered by the hammers for a more accurate control. TP/110 is remarkably lighter than any other keyboard mechanism for a better portability of the instrument.
Ultimate
versatility
...
to meet the needs of
every
musician
.
You may want a switch pedal, a continuous pedal or a triple pedal. You can have all of them together and not only. Four programmable audio inputs, USB Audio and Midi, Midi Din plug and Audio Out connections.
The ultimate versatility to connect all your devices.
4 MONO
2 MONO + 1 STEREO
2 STEREO
Audio IN
Built-in digital Mixer
Full control of each audio input independently by adjusting the Gain and equalizing the sound source. A bunch of Master Effects can be added to each channel. Through the Master EQ it will be possible to adjust the final mix.

Playing at any level, alone or together, deserves to focus only on the music and nothing else. Easily manage any other musical equipment and get ready to play. Record everything on-the fly directly from the audio of the USB output.
This is what you can do with the Numa X Piano.
A game changer for digital piano players.
Audio over USB
The USB port sends and receives audio in digital quality with your computer or mobile device. Use the Numa X Piano as an audio board, with a local direct control on the volumes.
Favorites
The Programs you use the most are always close at hand and the content of each Favorite is shown on the screen for a faster selection.
Sticks controllers
The Sticks can control any desired sound parameter. Stick 1 is bi-directional-springed. Stick 2 is unidirectional not-springed. Both feature an elegant aluminum control shaft which feels perfectly balanced and expressive between your fingertips.
Portability
All the power of Numa X Piano packed into a compact and lightweight cabinet. Take it everywhere.